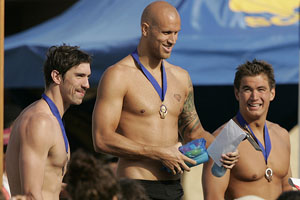 AP Photo/Marcio Jose Sanchez
The headlines about Michael Phelps  are so ridiculous!  
This past weekend, he competed in a swim meet and won 2 golds and 2 silvers at the Santa Clara International Grand Prix. (Since when is that losing?)  Yet all the headlines on the major news and sports sites read something to the effective of, "Michael Phelps Loses two Races".   
 Give this guy a break! Geeesh.
It's actually sick (sick=great) that he is doing so well in these events because they are new ones for him! He is going into more of the shorter distances to challenge himself and taking a risk by getting outside of his comfort zone to learn new things. 
We should be applauding him for taking on these additional challenges.   He is being a great role model here!  That's a true Olympic Champion!  
So, I'm congratulation Phelps on a great meet in California and also for being brave enough to take on new challenges!  Bravo!
http://sports.espn.go.com/oly/swimming/news/story?id=4258725